Careers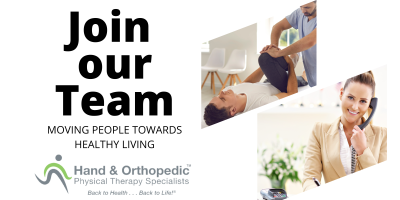 At Hand & Orthopedic Physical Therapy Specialists, our mission is to move people towards healthy living. We are passionate about our people – not only our patients, but also our employees.
We are focused on everyone's experience at Hand & Ortho leaving them feeling valued, empowered, and hopeful. We have been in business for over 40 years, and now have four locations in Bountiful, downtown Salt Lake City, Murray, and Draper.
We are always looking for candidates that align with our core values.
Core Values:
Experience – We value professional experience, knowledge, and wisdom to serve our community.
Strong Relationships – We create an environment of trust, reliability, and safety with employees, patients, and our community.
Progressive – We continuously grow, develop, and evolve to achieve our purpose.
Integrity – We value honesty, hold ourselves accountable, and accept responsibility as well as the consequences of our actions.
Meaningful Work – We strive for fulfillment and enrichment of our employees and patients.
Whether you are looking to join our team of therapists, join our front desk or billing team, or are looking to get clinical experience as a technician, a career at Hand & Ortho will give you unique experience, skills, and the feeling that you are a part of helping patients get back to health and back to life. Everyone here plays a role in our patients' recovery, and everyone is a vital part of the team!
Certified Hand Therapist - PT/OT