Success Stories
Running After Back Surgery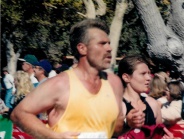 When I started running in 1998, I couldn't run a mile. After 18 months of sticking with it, I ran my first marathon in St. George, Utah. When the marathon-aftermath of sore muscles healed, I set the goal to finish 10 St. George Marathons.
In July 2009, I had a disc injury resulting in a crushed nerve. Steve Crandall, PT, also a marathon runner, got me into Dr. Robert Berry, who fused my L5-S1 vertebrae. Steve then helped me recovered strength and mobility through physical therapy. 14 months after my back surgery I completed my 10th St. George Marathon. Between the 1999 and 2011 marathons, I had a few other injuries that could have stopped me. A torn meniscus, a stress fracture in my foot, a broken foot (none of these were caused by running), and an Achilles injury (caused by running).
Therapists at Hand & Ortho were able to help me through rehab and by getting me into the right physicians. For me, running has been a team sport and Hand &Ortho continues to be an essential part of that team.
Torn Meniscus
My story began 10 years ago when I herniated my L4 and L5 in my back out at work. I was referred to Steve Crandall at his old facility. When you first meet Steve you are aware of being in the presence of a very compassionate human being. He got me straightened up, and back to a normal life. Fast forward to August 7th 2012. I had my right knee operated on with a torn meniscus by Dr. Andrew Cooper. He did a wonderful job, and he had me start physical therapy on August 8th.
It was a "no brainer" to return to Steve Crandall and his team. Wow how things had changed. They have a very nice new facility, their entire staff, and I mean everyone, are so friendly and caring with everyone who walks through their door. You automatically feel as if you are their best friend. PLUS they really know how to "work" you so that you achieve the maximum results possible for the work effort you put into your rehab. They can't do the work for you, but they teach you everything you will need to do to succeed. I was able to reach my goal and be released on August 29th. I hope that Steve and his team get a chance to read this, because I was not able to thank all of them for their work and help with me. You are all GREAT! Thanks again, and since I am 55, I am sure our paths will meet again. And I will come through your door again for help. Thanks!
Neck and Back Muscle Spasms
My only regret is that it took me so long to find Steve and the other therapists at Hand and Orthopedic Specialists. I had to go through 14 doctors, therapists and chiropractors. Finally, I learned about Steve Crandall from the Hearing and Balance Center in Salt Lake City. I was in pain from the top of my head to my middle back. Steve gave me my initial evaluation and set up a program to help me strengthen my neck muscles and alleviate the muscle spasms in my neck and back. I did exercises daily with visits to the clinic at first twice a week and then once a week. All of the therapists were caring and very supportive. I am now completely free of pain from my muscles. I have now been discharged after four months. THANK YOU!!!
A Lifetime of Moving Well
On May 18, 2011 I accidentally severed two fingers from my right hand. The surgeon said he didn't think he could save them, but after two surgeries was able to retain the fingers. During the next year I received physical therapy from Seth Riley. By May of 2012 not only did I still have my fingers, but my fingers were functioning at more than 90% capacity. I am so grateful to Hand and Ortho Rehab for my success. I was only fifteen years old when I had my accident and I am looking forward to an entire lifetime of moving well and feeling happy about my success.
Milestones
I have delayed writing this, as I wasn't sure where or how to begin. When I went to my first apointment with Steve Crandall and his crew, I was really broken. Not only were the bottom two discs in my spine an issue but my spirit was also in great need of repair. Steve literally took me under his wing and gave me comfort and hope that all wasn't lost and that I was worth saving. Steve, as well as everyone on his staff, are amazing human beings. My first time on the tread mill, it took me 15 minutes to limp a quarter mile. My last time, I was able to fast walk 1.06 miles in the allotted time. For me, that was a huge milestone met and conquered. I understand it was me that did the "work" but it was these amazing people who gave me purpose. Now on my mantel next to other accomplishments sets a red water bottle (Hand & Ortho discharge gift). Perhaps it is my most prized. Thank you Steve and staff, you will always hold a special place in my heart. I was touched by angels and lifted up to where I can again stand on my own.
My Career in Sports Was Not Over

A little background on the story of my injury: My junior year of high school, during football season, I suffered a significantly
serious injury on my pelvis that took away half of my junior and senior year in sports. I went to some of the best doctors in the valley and they were unable to identify what exactly was injured and how to fix it. After a lot of grief and frustration, I was recommended to visit with Steve Crandall and his staff. I had little hope that they would be able to identify the problem, and even smaller hope that they could cure it. However, after visiting with Steve for an hour or so, he found the direct problem that had been plaguing me for the last year and a half. I met with the staff 4 times after this initial meeting, and by the last meeting I felt as strong and physically healthy as I had ever been. Because of Steve and his staff, I found hope at last that my career in sports may not be over after all. I recovered in time to be able to start the final game of my senior year in football, a cherished moment that I will never forget. I owe so much to the staff that I met during my time at physical therapy. They are incredibly genuine and friendly people, and I would strongly recommend them to anyone struggling with an injury of any kind.
A Remarkable Journey

I would have to say that my experience with Hand and Ortho Rehab is far more of a journey and an adventure than a story. It began back in 2007 when I was first referred to Steve Crandall and his team following a significant back injury. Having had quite a bit of experience with a number of notable rehab facilities, I was somewhat wary. I had been through a number of 'programs' for various injuries over the years, and although they were mostly 'effective' I felt more like a 'number' than an individual. I was promised that if 'anyone' could rehab me—Steve and his team were "it." Well, from the minute I walked in the door the experience was different than any I had previously. Not only was the 'wait' time shorter, but the evaluation was LONGER.
I was an 'individual' with a debilitating injury who wanted to get better–SOON. Steve (as you all know) is THOROUGH. His compassion for others is genuine, and his desire to truly help you heal is real. He CARES—as does everyone who has helped me and the members of my family since. If they don't know an answer, they will find it. Steve, Ryan, Matt, and ALL the others that work there are problem solvers–and you are an individual with unique problems. They have kept me in my job as a firefighter, enabled me to participate in triathlons, marathons, cycling races, and LIFE. They are truly a PART of my Journey through this adventure called LIFE. I thank each of them for their encouragement, laughter, and patience. I recently had this quilt made of T-shirts from races I have done—-it would not have been possible without this team of individuals, so I had to 'include' them in the quilt to remind me we never succeed in life without others. THANK YOU.
Using My Right Hand Again!
I have decided to approach this optimistically…my injury was a lacerated tendon of the middle finger on my right hand, rendering me almost useless for about 1 month. After seeing the diversity of injuries that surrounded me during my rehab at Hand and Ortho, I realized that mine really was severe as any, so I was told. Anyway, on my first visit for evaluation, I was met by some very enthusiastic people that at first seemed more like the polite greeters at Walmart… Not so!!! Extremely professional in all aspects of this busy medical field. As things were decided, a plan was put into effect. Susan (and we all gratefully acknowledge her skill and prowess in what she does) began to assemble something out of the Edward Scissorhand movie or commonly known as a DYNAMIC SPLINT. You had to see it to believe it!!! And as my story goes, I wore a couple of different appliances that (contrary to what I thought) worked to perfection and design!!!! Who knew???!!! (Susan did… of course.) As time passed, it became time for some strengthening and dexterity exercises. My eyes were once again opened with what seemed simple tasks to perform, but were actually quite challenging (once I took the time to learn the procedures correctly). I was well on my way to recovery.
Although this short compilation does not really go into a great deal of the detail and time involved in the healing process (and to quote Susan, "You can't hurry healing"), the outcome for me so far has been very satisfying. I have gained approximately 90 – 95 % mobility, and I am getting stronger all the time… thanks to the patience of Susan Ozaki and her staff in the continuing work of recovery. Most special thanks to her aid Jeannine, for her patience and concern for me and each person that I saw around me while doing those funny things called physical therapy…. ha ha ha… still doesn't even look like real exercises to me. But the end result, particularly for me, has been the use of my right hand… the way it used to be and very soon will be 100 % healed and functioning… which is why I went to Hand and Ortho in the first place!!! Not to mention, I made new friends too!!!!!
Thank you for taking the time and making the effort to ensure my success through complete devotion from all parties (me and the fine people at Hand and Ortho). Your success is really ultimately determined by you the patient!!! If you don't do the work, both at Hand and Ortho and at home on your own, you do not stand a chance at recovery. Do what you are told to do, and do it when you are told to do it!!!! Follow to the letter of the law…it's you that needs to recover. From the moment I entered the door, I was greeted by very friendly and helpful staff members who would quickly snatch me up and take me to the exercise area (where they had to beat me into submission… not really just kidding). In all gratitude, Tyler Housley – a graduate from the Hand and Ortho academy). I am wearing my Hand & Ortho shirt as I type this.
Hit By a Truck
I was hit by a truck while riding my bicycle, and I tore my MCL VERY badly. When I first came to Todd Schwartz and his team, I was very discouraged about my injury. I thought I would never even be able to straighten my knee again, and after only the second visit Todd got it straight! I actually came to Todd because I was disappointed with another orthopedic rehab's service and therapists. They were so cold and made you feel all alone. I thought to myself, "There has to be somewhere better than this," and I was SO RIGHT. I am so glad I came to Todd and his team at Hand and Ortho. From my initial consult, I knew that this was the place I wanted to do my physical therapy. Todd and company were always very encouraging and so kind throughout my rehab. I was not only able to straighten my knee, but I got my full range of motion back! Still strengthening though.
Todd is excellent with making you understand what is going on with your condition–he makes it so clear. Todd is an analogy Jedi! Going to rehab can be tough, especially when you see other people running and playing and you know you can't, but Todd and company make rehab a whole lot better. They want to see progress, and so do you. You have to PUSH to where you want to be. They will get you there, but you have to be willing to meet half way and do your work at home to have a successful rehab! I know I would not be where I am today without Todd and his team. THANK YOU SO MUCH FOR EVERYTHING!
Hope in Healing from RSD
After suffering increasing pain in my right hand for over a year, it required surgery to repair severe bone spurs. The operation went fine, but my body's reaction to the surgery was to rebel! After the cast was removed, the doctors could tell immediately that I had RSD (Reflex Sympathetic Dystrophy) – a nerve disorder brought on from an injury or surgery, and usually affects hands, arms, legs and feet, and it is very painful. My surgeon recommended Seth Riley at the Bountiful Hand & Ortho location. I really credit Seth, along with the helpful team there, with getting my hand back to its new normal. After two months in a cast and then six months of therapy with Seth, plus home therapy work, I am thrilled that my hand is 95% recovered. Seth and his team never let me give up hope that I would see improvement and healing, despite the challenge. Although I have a few minor issues now and again with some hand weakness, overall I can do just about anything I used to do. I don't wish RSD (more commonly known as CRPS now) on anyone…if you have it, I do wish everyone could have Seth as their PT!
Suffered 10 Years with a Numb Leg
For ten years, I suffered with a numb leg. Two neurologists, two MRIs, a sports medicine doctor, and an acupuncturist could not diagnose or cure me. I finally visited Todd Schwartz, who spent the time to hear me out and give me my first glimmer of hope that I'd be able to feel my leg again. I am an avid runner, and had just kept running through the numbness. For six months now, I have been doing the exercises he outlined for me and I have seen incredible progress. I ran for the first time this week, with no pain and no numbness. I am very happy with the service and attention I received at Hand and Orthopedic Rehabilitation Specialists and recommend them frequently.
Underwater Treadmill was Instrumental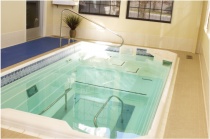 The burning pain down the leg was so unbearable. Movement was impossible without more pain. Diagnosis: herniated disc that the MRI confirmed. I was sent to Hand and Ortho for physical therapy. Steve Crandall's careful examination not only addressed the disc problem, but also another underlying issue that predisposed me to hurt my disc. He addressed my SI (sacral-illiac) joint dysfunction. The underwater treadmill was instrumental in my recovery. The unweighted, soothing resistance gave me a great workout, essential for healing. The pain free environment of the water allows for increased movement for longer periods of time to enhance my ability to perform more exercises to get better. The treadmill in the water gives you an easy, natural movement of walking at a steady pace to make a therapy session easy. No difficult maneuvers to learn, just walking. This experience was enhanced by the friendly staff and DVD player that allowed for time and the workout to pass all too quickly. Thank you for having the expertise and equipment necessary for my recovery. I know that because of reimbursement issues, most therapy places would not include the wonderful underwater treadmill. Thank you for caring enough about your patients to include this valuable rehabilitation tool to your physical therapy practice.
Frozen Finger
I went to therapy for a frozen finger on my right hand. Surgery was a big possibility. Thanks to Seth Riley and his amazing team, I have gained 85% of mobility! The team was so kind, patient, professional and explained everything they did and gave great instructions on how to achieve my goal. It was a very pleasant experience and I am very happy with the results! Thanks!!!
A Life to Look Forward To
I fell down my basement stairs. I did not break any bones but severely pulled the muscles in my right leg, which was caught on the stair behind me while my left leg led out front and my body plummeted down the stairs. I was suffering much pain and no one was giving me any hope for ending the pain. I could barely walk and wondered if I would ever be able to move at all without severe pain. The physical therapist analyzed my situation, discovered what the problem was, and decided how to treat it. After three weeks of physical therapy, I can walk like a normal person without pain. I am 76 years old and am so grateful for the therapist at Hand and Ortho for giving me still a life to look forward to.
A Corner of Heaven
The results of a car accident sent me to Hand & Orthopedic Therapy for help. Two back surgeries were successful, but pain remained down my leg. Two ankle fusions, three ankle replacements and a skin graft followed – a risk of infection and possible threat of an amputation. Walking on the underwater treadmill was a favorite. I worked at my exercise routine and found relief with Steve Crandall "pulling my leg." I believed there would be a miracle and somehow found strength to keep trying. My next challenge was the need for a knee replacement. Knee exercises aided in the healing, but overwhelming leg and hip pain confined me to a wheelchair. Recognizing the symptoms, Steve called my doctor to suggest I go in for hip X-rays. Two hip replacements later and many hours of physical therapy, I began to walk again. I put my wheelchair away, then later folded up my walker and eventually set my crutches down. A Hand and Orthopedic Therapist and other special people changed my life in many ways and helped me get my life back. It is a corner of heaven for me.
I Hurt Everywhere After the Birth of My Fourth Child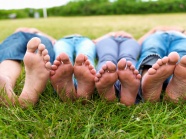 I came in to see Steve Crandall a year ago after the birth of my fourth child. I hurt everywhere. I had neck and back pain that was making it hard to do my job as a mom. I had always enjoyed long distance running, biking and swimming but felt completely sidelined because of pain. I had been to other doctors without any luck. Steve took the time to understand what was going on, and diagnosed my problem as a pelvic issue. I soon started seeing results and felt like I was getting back on track. His team was so positive. I would arrive for appointments feeling overwhelmed and achy, and leave feeling stronger and energized. There is a great positive energy in the clinic, and I appreciated the way he helped me put my life and health back into my own hands within a few short months. It has been a year, and I recently competed in a half marathon. I am training for a triathlon and feel so grateful for Steve and his physical therapy team for all their amazing work!
Two Success Stories in One
I was diagnosed with border line Meniere's disease about 8 years ago. Over the years, intermittent episodes of vertigo would slow me down, but with medication and remembered exercises, I was able to cope on my own. About a year ago, I was affected again. This time I was unable to get back to normal on my own, so was referred to rehab by my ENT. I met with Todd Schwartz and his team and started rehab two times a week. I dreaded going in, knowing that I was going to feel terrible with the exercises, but knew it was the only way to get better. With their guidance AND persistence, I was back to normal in about 6 weeks. Thanks guys!!!
This past September, while enjoying a cruise, I suddenly was unable to put any pressure on my right leg while walking up stairs. It continued, even after I was back home, so I decided to go and see a doctor. He wasn't sure what the problem was. After some tests, he wanted to refer me to rehab for a severe tendinitis, but was hesitant, as he was new in the area and wasn't sure where to send me. I immediately gave him the phone number and address of Todd and team. The following day, me, my cane and painful leg were once again back in rehab. Although I was here for an new injury, I was still with the same group I learned to have so much faith in. I was discharged about a month ago. When Todd wanted to give me my "discharge
T-shirt," I told him that I would be back for it (when I was once again able to walk up stairs, normally). Two days ago, I went back for my reward and was greeted with a hug! I can't say enough about the people who cared for me: Todd, Mikey and Robyn. The rehab was hard, very painful, and at times I was discouraged (feeling I was going ahead one step, and back two), but it was worth it! If I ever need that kind of help again, I will know where to go! Thanks again, guys!
A Changed Life for the Better
Soccer has been my favorite sport since I was young. I had been playing since I was about 4 years old. My sophomore year of high school, when I was about 16 years old, I had a season ending fracture in my lower back (with two bulges in my vertebrae). In all honesty, it was very hard for me. Not not only did I have to quit soccer, but to not being able to play many sports in general was a big loss. Luckily, I found Hand and Ortho in Murray, Utah. I was able to meet Steve Crandall, who after a few months of physical therapy, helped me get back to where I wanted to be–playing soccer and sports again! I learned new exercises that helped me eventually get better. After all this, I finished my junior and senior year of soccer. I was able to play sports just like I used to. Eventually I left the states to serve a two year mission for my church in Italy, and my back only gave me minimal problems. I am so grateful for Hand and Orthopedic for all the help they gave me. They literally changed my life for the better. At first, the thought of physical therapy seemed like something that I never wanted to do, but after all that has happened, my back is doing great, and I learned so much about myself and others. Thank you Hand and Orthopedic Rehab!
Neuropathy and a Bad Back
Steve Crandall and his team have helped me so much with my bad back and my neuropathy. I used the pool (with the underwater treadmill) and used the total gym, rebuilder and other things to help me get better. They were all so very helpful, friendly and wonderful. I would recommend them to anyone. I love all of them. I also loved the massage part as that helped alleviate pain points and it felt so good on my feet. Thanks to all of you. I sure do love you.
Biking and Camping on the White Rim Trail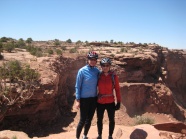 When I came to Hand and Ortho in 2011, I was very broken, both physically and mentally. I had experienced a failed back surgery with lots of fear, pain and nerve damage. I was unsure whether I could even continue working, much less get back to my previously very active lifestyle. Steve Crandall and Margo Brady and their amazing team helped me find the strength to keep going. It took a long time, with some serious ups and downs, but I am now back to doing what I love. With Steve's help, I learned to accept some limitations while getting stronger both inside and out! I really do not know where I would be without Hand and Ortho. They gave me the tools to help myself back to health. I also learned from the other patients and have formed many great friendships with them and staff. I recently accomplished something I thought I would never be able to do…bike and camp on the White Rim Trail in Southern Utah (see picture). Thanks!!
Bursitis in Both Hips
About three years ago, I was diagnosed with bursitis in both hips. I was treated with medications, injections, and physical therapy, but the problem persisted. After another injection by my new rheumatologist failed to fully resolve the pain, he highly recommended that I go see Ryan Fuhriman at the Murray facility. In spite of my doubts due to my previous experience with
physical therapy, I agreed to try again. I was pleasantly surprised that after about six sessions with Ryan and his group, my bursitis almost entirely disappeared. I now know the exercises I need to continue doing to keep the bursitis from flaring up again. Ryan and his staff were awesome to work with and I would never hesitate to go back, if needed.
Gaining Hope
After six years and four surgeries due to a fall on an escalator (yeah, never said I was graceful) at the very busy Atlanta airport, I didn't have a lot of hope about ever being comfortable sitting or sleeping again. (Neck– c-4/5 – 5/6, 2-bicep repairs which included a sever and reattachment, and one knee scope). I had so much pain between my shoulder blades and most of my right side that I went back to my surgeon and begged him to please help me get some relief! My quality of life was at best, miserable and I was fortunate enough to end up at the Murray location of Hand and Ortho. After just my first visit I had gained more movement in my neck and they had released a lot of pain between my shoulder blades. I all but skipped to my car. It was truly the most hope I have had in more than six years. While I am certainly not yet pain free, I have hope that I can at least be comfortable. All of the therapists are fantastic and easy to work with. They have certainly changed my life in the short time they have been working with me. I know there is a lot more work to do, but having hope has been truly life changing. I truly cannot express the amount of gratitude I have towards this team. They are compassionate and feeling and want very much for you to be successful (while making it as fun as they can). Steve – you have a golden touch and I am so glad to be a patient (well – not glad enough to ever injure myself again, but glad you and your team are the ones helping me heal!)
And trust me, over the years I've been through a few therapy sessions. Thanks again everyone!!
Back Pain and Vertigo
I was suffering from severe back pain and also vertigo from muscles in my neck. After seeing Todd and his associates, my back is now pain free and I haven't had vertigo for the past two weeks. If it does return, I know where to get help. Thank you, Todd and all your associates.
Fibromyalgia
I've been plagued with Fibromyalgia/Chronic Fatigue for 8 years. Just recently I tore the ligaments in my left ankle. The doctor wanted to do surgery. I chose not to. My body was so out of alignment, I only slept a couple of hours per night for months. I had great difficulty walking before the injury. By the time I got to Steve, I was in so much pain and suffering with insomnia, it was very difficult to even fill out the paper work. After a few weeks of the specialized care I received, I knew I was going to make it. With the one-on-one personal attention I received from Steve's team, I felt like a VIP and my spirit was revived every time! In addition to the expert treatment and care that I received at Hand and Ortho, I added the most powerful natural supplement available to my regiment. I now have IMPROVED ENERGY, DECREASED PAIN, & INCREASED MOBILITY!!! I am so excited to HAVE MY LIFE BACK!
Square Dancing

After several years of increasing pain and limited use of my left shoulder I decided to see a doctor. After trying less aggressive treatments we decided surgery was the best option. I had my surgery which included cutting my bicep tendon, The doctor recommended physical therapy and gave me a list of clinics to choose from. I chose Hand and Ortho Rehab and was very glad I did. Seth and his team made me feel comfortable and that they are not just getting a pay check but was genuinely interested in me and how I was doing. Seth always made me feel as at ease as possible. After a few weeks I noticed I was getting more use of my arm and shoulder. I was able to wash my hair in the shower, and it became easier and easier to get myself dressed as well as fix meals for myself. I am an avid square dancer and was unable to do much because of the possibility of injuring my shoulder.
As I continued in therapy, I found I was able to do more, I could dance and even began twirling and doing overhead moves as well. I was also able to start working in my garden on a limited basis. I was discharged from therapy on May 29, 2013 and at that time Seth explained the need to continue doing all exercises as prescribed. Today I square dance as I always have and I am able to work in my Garden more as well as reach for things on high shelves and actually get them down. I have about 98% of the use of my shoulder. I am continuing my exercises and am slowly starting to see changes in my Internal Rotation and hope to have full use of my arm in the near future.
Back to Racing
I broke my collarbone while dirt biking, a simple low side on a bunch of loose rocks & dirt. After 10 years of racing motorcycles on asphalt/ice/dirt, an injury from a low speed get-off while leisurely trail riding motorcycles is ironic, and a little embarrassing. After 8 weeks in a sling, sleeping only a couple hours at a time, I was ready for physical therapy. My doctor recommended SLC Hand & Ortho since it was close to where I lived in the Avenues. Dave Moss ended up being my PT, which ended up being serendipity. Above Dave's desk hangs an art print of a MotoGP racer. MotoGP is the F1 of motorcycle racing, speeds above 200 mph are common during competition on road race courses. It turns out Dave is an avid motorcyclist, and rides his Ducati even during the winter. Since Dave understood motorcycling on a deep level, it was easy for him to know what muscles and range of motion I needed to gain back – not just day to day functionality. He was great at providing motivation, and was very accommodating to my hectic work travel schedule. You can see from the attached photo how important shoulders are to riding. Thanks to Dave I'm back to "normal" activity!
Total Knee Replacement
After years of ignoring the increasing level of pain in my left knee, I decided to have it checked out. And yes, I needed a total knee replacement. My physical therapist, Dave Moss, told me from the start that I would have to attack my rehabilitation therapy after the surgery in order ensure a successful recovery. I followed his advice and worked with him twice a week for several months. Dave made sure that I did not slack off and he would keep me going. Now, 4 years later, I can enjoy bicycle riding, walking and hiking with my dogs, going up and down stairs and all the other things we do in our daily lives that involve our knees. Prior to my surgery I could barely walk 20 feet using a cane before the pain would make me stop. I have normal pain free range of motion now, all thanks to Dave and his diligence in making my rehabilitation a success. I know other people who have been fortunate enough to have Dave as their physical therapist and we all agree he is THE BEST. Thank you.
30 Years as a Professional Ski-Patroller
As a lifelong skier and former racer, I've had my share of orthopedic injuries. Surgeries have included both knees (one an Oxford implant), both shoulders and spine. Yet after more than 30 years as a professional ski-patroller I'm still at it as strong as ever, due largely to the rehab skills of Mr. Dave Moss. I feel the Physical Therapist's role in the outcome of orthopedic surgery is as important as the surgeon's. It's because of the history of successes working with him that, time and time again, over the decades I've returned to Dave. Sure it helps that, he's a good friend, skis at the level of the pros, has firsthand knowledge of the biomechanics involved and shows the same passion for his work as he does for sports, but it's the results that really matter. Thanks for your dedication and guidance for all these years.
A Happy Camper

I began therapy as a result of numerous foot surgeries which resulted in pain to walk or any activity. I am a ballroom dancer and found myself not able to do that nor could I walk without limping severely. Now as I complete my therapy, I'm walking without limping, just a little pain, but most of all I am ballroom dancing again and just enjoying life to its fullest. Thank you Hand and Ortho for your kindness and concern for my welfare. I'm a happy camper.
Dancing Was My Life
Dancing was my life and when I had to get knee surgery, wrist surgery, and any other injury back to top performance Hand and Ortho was the place to be! The staff is absolutely amazing and they gave me the confidence to work my hardest to get better! I will never go to a different therapy office! I love Hand and Ortho! Thanks guys!!