Certified Hand Therapist - OT or PT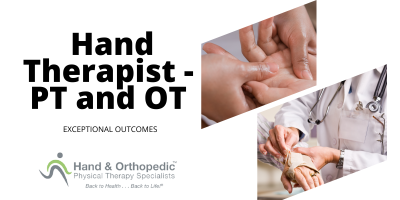 Hand & Ortho is seeking a Certified Hand Therapist (CHT) for both part-time and full-time positions. A CHT is preferred, but we will consider a therapist with 2+ years of hand therapy experience and on a CHT track.
Requirements:
Graduate of an Accredited Occupational or Physical Therapy Program, licensed or eligible for licensure in the State of Utah.
Certified Hand Therapist preferred or working toward the hours of direct practice required to sit for the exam
Independent and skilled in custom orthosis fabrication of any type and completing basic to moderately complex hand injury evaluations.
Strong written and verbal communication skills, non-cognitive abilities (ie, empathy, emotional intelligence, grit, etc.), manual therapy skills and clinical reasoning skills.
Desire to be a part of a team that emphasizes a culture of clinical excellence and life-long learning.
Primary Functions & Accountabilities:
Knowledgeable in all diagnoses of hand and upper extremity conditions, treatments and procedures
Evaluate and manage a wide variety of hand and upper extremity conditions
Diagnose movement dysfunction and develops a treatment plan
Clearly teach patients in proper use therapeutic exercise techniques
Schedule patients effectively for best time utilization and practice management
Stays current in EMR documentation which includes goals and progress, frequent FOTO surveys and discharges
Accurate and thorough documentation that identifies skilled treatment interventions, medical necessity and establishes realistic long short and long-term goals
Understand and complies with all Medicare documentation guidelines and maintains a plan of care for each patient which includes the required referrals and renewals.
Stays current in billing of charges in EMR (TheraOffice)
Willing to make and build relationships with physicians (call, text, email, visit) relative to patient's plan of care
Willing to learn about and participate in marketing (Google Reviews, posts, etc.)
Benefits of joining our therapist-owned team include:
Signing Bonus
Competitive Salary
Generous annual CEU allocation
Medical/dental insurance
AFLAC insurance – Life, Disability, Accident, Cancer, etc. (pre-taxed dollars)
401K
On-Boarding Training
Hand Therapy Mentoring (negotiable)
Paid time off
Holiday Pay
Hand Therapy In-Services quarterly
A collaborative team environment
An opportunity for growth and professional development
To inquire or apply, please email Annie Jenson at annie.j@handandortho.com