Getting a bike fit means improving comfort, maximizing efficiency, preventing pain and injuries, and gaining the confidence and peace of mind that your bike is fit specifically to your body. You'll also come away from your fit ready to enjoy riding even more and make cycling a regular part of your healthy lifestyle.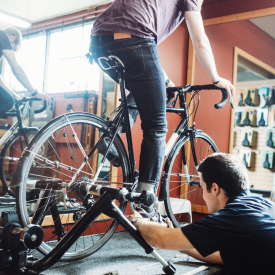 A physical therapist has the ideal training and expertise to ensure that your unique anatomy and medical history are taken into account and that you are set up correctly. We will work together and make adjustments to your bike until we find your optimal riding position, including…
Saddle height
Saddle tilt
Saddle fore/aft positioning
Inspecting saddle type/width
Cleat positioning
Inspecting crank arm length
Stem length and rise using research-spec adjustable stem
Headset spacers
Bar width and rotation
Lever positioning
Suspension setup
Apart from adjusting all the contact points and components which directly affect your posture and kinematics on the bike, we will also analyze how you move dynamically using…
Video motion capture technology
Dual axis laser level from multiple planes
Functional movement screening, muscle length testing, and strength & endurance testing as appropriate
Plumb bob analysis
Goniometric measurements of joints during various stages of the pedal cycle
Our professional bike fitter, Dr. McKay Murdock, is an ICE Cert-Pro Bike Fitter as well as a board-certified orthopedic physical therapist. He's been practicing therapy for nearly 10 years in Utah, Colorado, and Alaska and cycling all his life. He thoroughly enjoys the science and art of bike fitting and is thrilled to offer this service here at Hand & Ortho. Apart from matching the bike to the rider, he also enjoys sharing tips and tricks covering everything from basic maintenance skills to riding techniques.
We love helping our community get fit on all types of bikes whether it's mountain, road, e-bike, cross country, commuter, or anything in between. This service is ideal for anyone who rides a bike, but is especially beneficial if you…
Recently got a new bike
Haven't ever had a custom fit, or it's been >1 year since your last fit
Suffer from pain/numbness (on or off the bike)
Had a prior injury, surgery, or other change in health status
Want to improve power, efficiency, performance, etc.
Need help with basic setup, riding technique, and anything else that makes riding more accessible and fun
Bike fitting is a collaborative process and your feedback during and after the fit are crucial in order to get the most out of the experience. We are committed to working with you until you are completely satisfied with your fit and enjoying your ride.
Testimonials:
"Dr. Murdock's expertise and knowledge were invaluable. I'd been experiencing chronic back pain during and after riding my mountain bike. My lower back ached, and the pain was becoming unbearable. After meeting with Dr. Murdock for a professional bike fitting, my lower back pain has essentially disappeared! Dr. Murdock worked with me to understand my goals, address my pain, and adjust my bike to meet my body's kinematics. I felt the results of the adjustments on my next ride, and I'm thrilled that my pain has largely disappeared. If you're experiencing pain or discomfort while riding, I highly recommend scheduling an appointment with Dr. Murdock." – Sam S., Salt Lake City, Utah
"McKay was super helpful and attentive when it came to fitting my mountain bike. He provided honest feedback and options to make sure I could be my happiest and most comfortable when on my bike. I appreciate his affordable price; it really makes biking in all of its forms more accessible to everyone." – Sarah, Salt Lake City, UT
RIDE ON!