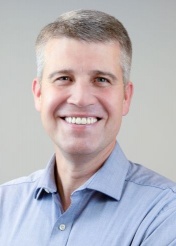 Since my days as a high school student athletic trainer, I have enjoyed helping athletes return to competition. My work as a student athletic trainer at the University of Utah, and later as a certified Athletic Trainer, led me to the profession of physical therapy. This extended my focus beyond athletes to individuals struggling to return to their regular activities.
Since receiving my Masters Degree in Physical Therapy (Krannert School of Physical Therapy, University of Indianapolis, 1999), I have kept up to date on the latest education, training, and therapies to help my patients achieve their goals. I specialize in the care of the spine and extremities, including the hip, knee, ankle, and shoulder.
Over the last eighteen years, the success of my patients has been my greatest motivation. I believe their improvements largely come from the individualized, one-on-one care my team is able to provide due to the unique treatment model of our clinic. The care of my patients has led me to seek proven strategies to advance their activity, function, and quality of life. As a certified Astym® therapist, I have helped many patients regenerate soft tissues and remove unwanted scar tissue that may be causing pain or movement restrictions. I am currently working towards certification in dry needling, an effective treatment for chronic pain with very few side effects. I appreciate the trust many have put in me and hope to maintain that trust by seeking the very best practices of my profession.
After joining Hand and Ortho in 2004, I was able to return to the University of Utah to receive a Doctoral Degree in Physical Therapy in 2010. My connection to the U continues as I serve as auxiliary faculty for the athletic training program. My degree from the University of Utah in Spanish has allowed me to meet the needs of Spanish speakers more effectively--helping many of them return to gainful employment.
Orthopedic Specialty: Sports injuries, spine