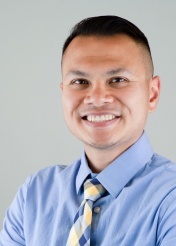 As a physical therapist, I have the opportunity to combine scientific theory and critical thinking all while making authentic human connections. My goal is to make an impactful change with lasting effects by empowering each patient with the tools necessary to take control of his/her own body. After graduating from Physical Therapy school at Marquette University in 2005, I felt prepared from the education I received. Furthermore, the experiences I had working for a world class organization in Chicago allowed me to develop proficiencies when working with a variety of personality types, ages, and activity levels.
The common goal consistently being to get them back working in their yard, playing with their grandkids, or competing on the field. I do my best to stay as active as possible, so I understand the importance of getting back to life after an injury. Whether it is playing basketball, going for a hike, learning to ski, or a round of golf, I enjoy movement. If I'm not out playing, I am either chasing my daughters around, spending quality time with family and friends, cheering for my Cubs/Blackhawks, or being frustrated with my Bulls/Bears.
Moving to Utah with my wife and daughters has given me the opportunity to embrace new outdoor activities, but it also allows me to pay it forward to a completely new community. I am excited to be part of another world-class organization at Hand and Orthopedic Physical Therapy Specialists and I look forward to serving the Draper area.
Orthopedic Specialty: Sports injuries, post-op rehab
Non-traditional Specialty: Running program, rehab for throwing athletes